With the holidays closing in, it's the perfect time to show a little extra appreciation to the person who qualifies your leads: your SDR. Between navigating busy holiday schedules and fighting for valuable time with prospects, your SDR truly lays the foundation for growth and success, year after year.
We've rounded up 6 gifts for SDRs that are sure to brighten their day and ease their workload this holiday season. Whether your SDR is interested in growth and development or just needs a quick escape from the daily grind (or, most likely, both!), these gifts won't disappoint.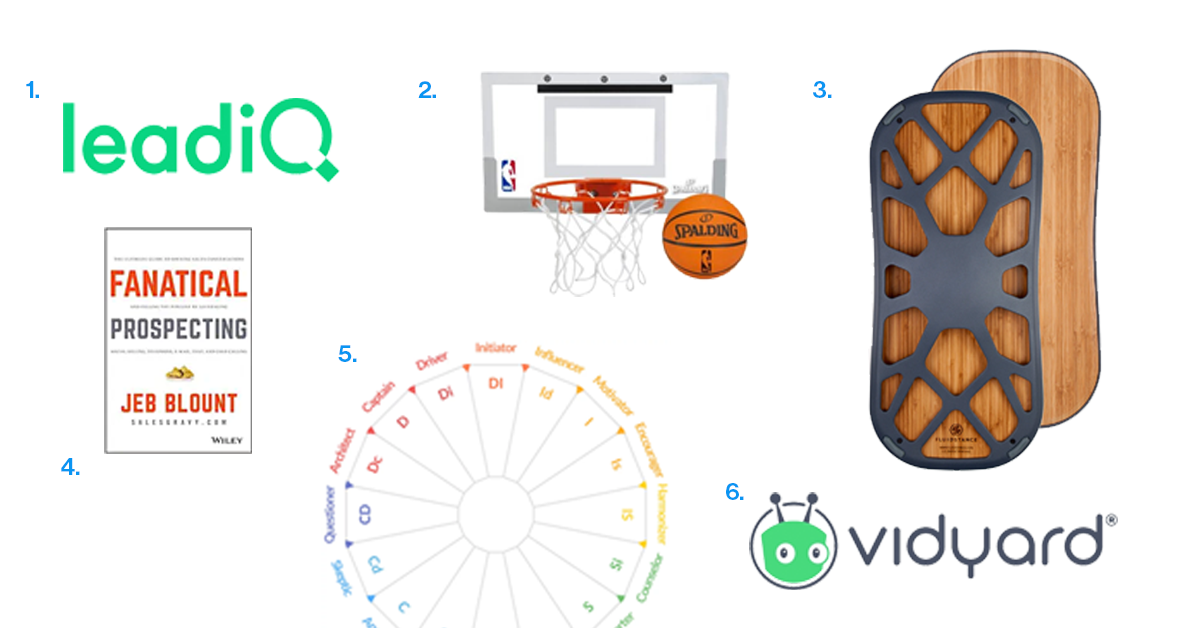 1. LeadIQ
A steady flow of leads is both a blessing and a curse for SDRs! While an abundance of leads is undoubtedly a great thing, it can become difficult to manage. Extend a helping hand to SDRs with a subscription to LeadIQ.
LeadIQ speeds up prospecting with a handy Chrome extension that captures leads as you browse. SDRs can stay on top of their leads, and integrated dashboards give the rest of the team and management visibility into what everyone is working on.
2. Mini Basketball Hoop
While we can't guarantee the productivity of anyone using this gift during work hours, we can all agree that breaks are necessary. An over-the-door basketball hoop is a classic way to unwind between meetings, calls, or emails. From practicing a shot to settling a bet, a miniature basketball is sure to entertain.
3. Fluidstance balance board
Working from home means that we all have to seek creative solutions to stay active and healthy. Gifting your favorite SDR a Fluidstance balance board can break up an otherwise sedentary day of deskwork. It's the perfect accessory to a sit-stand desk, but is a great activity in its own right.
SDRs can hit the balance board during calls or while answering emails. Or, if they prefer to keep work and play separate, they can use it while watching TV after work. Balance boards can help keep your SDRs active and comfortable without sacrificing productivity.
4. Fanatical Prospecting
Fanatical Prospecting: The Ultimate Guide to Opening Sales Conversations and Filling the Pipeline by Leveraging Social Selling, Telephone, Email, Text, and Cold Calling, is an essential read for SDRs eager to move up the corporate ladder. Jeb Blount's book reveals the secret to gaining prospects by providing tested strategies, problem-solving techniques, and tools. Fanatical Prospecting also includes winning techniques for creating persuasive, compelling emails and text messages that turn prospects into customers, something every SDR is sure to appreciate!
5. Crystal Knows
Navigating different personality types is one of the most important skills in sales. A subscription to Crystal Knows can help SDRs master communication with every personality type. As the first on-demand personality insights platform, Crystal Knows adds a method to the madness of engaging with prospects and closing deals.
6. VidYard
In today's socially-distant world, we need to find new ways to add personality to our many types of online interactions. A VidYard subscription can quickly add a more human touch by integrating video into your emails, website, and pretty much everywhere else.
SDRs can easily record and edit videos of themselves and their screens, and quickly embed them into emails, webpages, social media, or wherever else they are needed. Including personalized videos in prospect emails will help your SDR stand out from all of the noise this holiday season and well into the new year.
Regardless of what you choose to send your SDR this holiday season, your gift is a statement of appreciation for all the hard work they've done this year. We will be sharing more gift guides for sales, marketing, and executives over the next two weeks, so be sure to sign up for our email list to stay tuned!