MSP Lead Generation Best Practices
3 Best Practices for Growing Your MSP: Read Or Miss Out
Nearly 30 million small businesses exist in America, and most are trying to tread water in a world fraught with IT challenges, security concerns, and rapidly evolving technologies.
Seemingly small tech problems can snowball quickly, costing companies exorbitant time and money to fix if they're mishandled. At the same time, 62 percent of CIOs say they have difficulties finding skilled IT talent.
The days of Jerry the IT guy swinging by to flip the on/off switch are gone. Modern businesses need partners with the technology to move quickly, and many are turning to managed service providers, or MSPs, to do the job.
But this insatiable demand for skilled IT talent is far higher than the MSP industry's supply. Furthermore, a wide range of IT and tech-related service companies have jumped into the market and rebranded as MSPs, making it harder to differentiate among businesses.
The high demand for help from MSPs makes this a great time to be in the industry. But as market pressure increases, how can you stand out from your competition?
Wiring Your Company for Success
Companies such as TeamLogic IT, which keeps its finger on the pulse of the entire tech infrastructure, know how to do just that. Its team is always vigilant, proactively updating content, backing up information, and ensuring its systems run smoothly. Its leaders' obsession with constant vigilance has lead to rapid growth and industry recognition as a top global managed service provider.
Want to follow in their footsteps? Consider implementing these best MSP practices in your company right away:
Invest in hiring and retention.
Finding and retaining top talent is the lifeblood of any IT company, so each must spend the time and money required to create a smooth yet thorough hiring and training process. Start by considering sources you might not have tapped yet, such as graduates of technical schools, military veterans, or even recruits fresh out of high school. Find out whether any of your current employees in nontechnical roles might have what it takes to make the transition.
Successful individuals act like consultants, suggesting the tech that will genuinely benefit each client rather than defaulting to the most expensive options each time. You also need employees who can talk the talk with the tech team and explain issues clearly to nontechnical managers to build trusting long-term relationships.
Continuously educate your employees.
Your team should always be learning about your industry. It should never fall to your clients to suggest new products or solutions — you need to make sure your team can innovate. Training can be a large investment, but it will lead to further opportunities and market angles for you to explore.
For example, many companies are managing office cloud services with little to no support. As software-as-a-service, or SaaS, solutions reduce client dependency on MSPs for automation, custom identity-as-a-service, or IDaaS, solutions that enhance these cloud applications are a great opportunity. Offering IDaaS solutions allows you to capture more of the cloud services market without competing directly with SaaS companies.
Use technology to build the best support.
The easiest way to lose to the competition is to have poor customer service. An emergency is the height of emotional distress for a client, and not being at your best when you answer is the worst mistake you can make. Over half of B2B clients report dropping a partner after a miserable experience.
Build a dedicated team with exceptional knowledge of your clients' accounts to support customers. Ensure each client's profile includes notes about the setup and any specific parameters that apply. Find a great contact management system that helps your team see contracts, terms, and support history easily. Then, ensure you have an emergency line, and answer it when it rings. When something goes wrong, customers want to speak to someone who can quickly address their issues — offering that service is a must.
Implementing these tenets is not easy, but you'll know your efforts were worth it when you start to see an uptick in client and employee retention as well as new client sales. Keep these best practices in mind at every level of your organization, and you soon won't have time to worry about your competition — you'll be too busy managing growth.
We like to consider ourselves experts at supporting growth for MSPs, heck we even wrote a guidebook on it! Download the Customer Acquisition Guide for MSPs.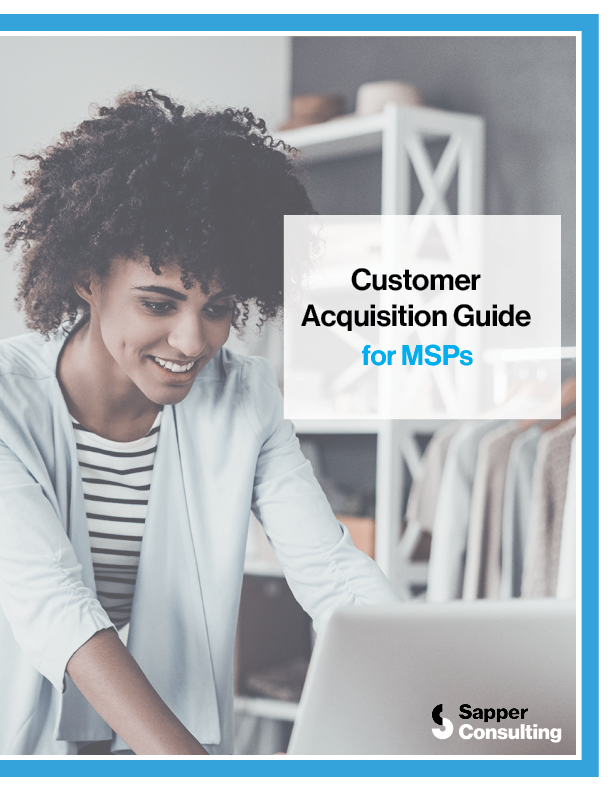 This article was originially published in CEO World on Feb 7 2018.
MSP Lead Generation: Stop Losing Business to the Shop Down the Street
So I have good news and bad news.
If you are reading this, you probably are being outsold by a competitor. That's the bad news.
The good news is that this does not have to be a permanent (or even semi-permanent) condition. In fact, by making a few changes to your sales methodology and incorporating some MSP lead generation tactics, you can start eating away at their advantage right now.
Below are 4 things to STOP doing to catch and surpass your competition.
Stop believing that happy prospects buy more frequently than skeptical prospects.

According to a study published by Gong.io (a startup that helps you convert more of your pipeline into revenue by shining the light on your sales conversations) "Tire Kickers Use More Positive Language Than Buyers".

And, conversely, according to the study, "positive sentiment levels gradually decline as a deal progresses through each opportunity stage, drawing closer to the finish line".

So, if you are in a situation where a buyer seems a little too positive, might be time to ask some tougher questions. Gong.io recommends, "What obstacles and reservations need to be resolved before we move on to the next step?"

Stop believing that salespeople should be making cold calls.

They should not. There's a reason so many successful companies have differentiated the activities of closing deals and prospecting. Salespeople should spend time closing deals. That's what they're great at and it's where you get the best return on their time. Appointment setting is a completely different animal.

Drop the misconception that outsourced lead gen/appointment setting is a bad investment.

Our MSP clients receive at least 5 quality opportunities per month. Many of them close deals and achieve positive ROI exceptionally quickly. There are many others like us in the space. Are there some bad eggs? Sure, but when you find the right partner, it can change your business.

The point being: outsourcing appointment setting can be done, it can be done well, and it can materially (and quickly) impact your bottom line.

Stop trying to build rapport at the MIDDLE OR END of sales calls.

According to a similar Gong.io study, "the best salespeople build rapport early on in their sales calls compared to their peers." This is critical as it implies that worse performing salespeople are making small talk during the middle and at the end of calls potentially derailing the important, continuous business conversations.
Bottom Line
The MSP space is competitive, and, as is the case with any competitive industry, sales effectiveness plays a key role in determining winners and losers. By separating yourself from some of the above beliefs, you can move further into the winners' column.
The Case Study below details how Sapper helped one MSP franchise generate over 1 million dollars in pipeline. Download it for free.
Referrals Won't Sustain Your MSP Sales Pipeline
Referral business might be the "easiest to close", but it's the hardest to come by. And relying on your customers to introduce you to new opportunities is unreliable.
MSPs need consistent, reliable sources of revenue to survive and thrive.
Even though more scalable methods appear difficult to navigate, and might not yield the same conversion rates as referral business, they're necessary, and extremely valuable once you've mastered them. By fine-tuning sales approaches, several of our franchise clients have closed six-figure deals after only a handful of emails and calls.
And they continue to do it month-over-month.
This article will leave you our best MSP sales tips on how to see results from some other growth vehicles you either haven't tried, or have tried and haven't quite seen the results you're looking for.
1. Take Stock of Your Real Competitive Advantages
Many companies now outsource a considerable portion of their daily IT responsibilities, and while there are subtleties and nuances, many MSP offerings are similar across the board (VoIP, DaaS, cloud, network security, etc.)
So, leading with figures like 99% uptime or "we pride ourselves on customer service" doesn't cut it anymore. What company will say "oh, well our customer service is subpar!" or "we hover around 80% uptime."
Technical competency has already eaten most of those businesses alive, and as a result, prospective customers need more to be "wow-ed".
Lead with case-studies or huge successes. Pinpoint what components lead to those victories and take the time to structure and share them in a compelling way.
2. Do Your Damn Research
Understanding what's important to your prospects takes considerable time and research, but the ROI speaks for itself. There's no sense in building a pitch deck around about up-time when their current vendor already has them humming at 99% plus.
However, if your campaign revolves around customer service when they've suffered quality issues with vendors, you're on your way to turning heads.
Get to the bottom of why the prospect decided to meet with you. What's missing from their current service? What are they looking for in a new one? The sooner you can uncover their motivation for changing things up, the sooner you can evaluate whether or not your services align with what they need.
3. Be Compelling–Stand Out in a Commoditized Space
Whether you're launching ads, engaging via social media, or sending emails, staying "feature-first" in a crowded space doesn't cut it.
Stories and quality testimonials are gold in the MSP space.
Through stories, prospects can learn everything they need to know about your company–it beats chewing through a laundry list of services that look nearly identical to many other options they're evaluating.
How are you going to stand out?
Tell Your Story
Maybe one of your founders did network security for the government or served doing ops work overseas. That information is rooted in points that make your business more human, more valuable, but maybe most importantly, memorable to someone who's already trudged through 20 MSPs screenings in the past week.
Stories humanize you and your business, so do some digging and lead with what makes you different.
4. Outsource your Business Development Efforts
You might have an entire team who does VoIP installs in their sleep, but when it comes to articulating what makes their company better than the one down the street, they're at a loss for words.
Instead of blowing your budget staffing out an entire marketing team, look to qualified vendors who, are not only much more cost-effective, but will take the time to understand your business, clearly communicate your value, and get you new customers.
If you're unfamiliar with the landscape, deciding on the right business development vehicle can be overwhelming, but with the right tools (like these 5 questions to ask when evaluating a lead generation company), it's a lot easier.
Referral business is nice when it happens, but you can't rely on it–it's too unpredictable. Use these tools to help you solidify more predictable, scalable resources of revenue.