Shopping for your favorite CEO can be intimidating! Whether you're shopping for someone who seems to have it all or you want a gift that's sure to stand out, we're here to help you narrow down your gift options. Give the CEO's in your life a gift they are sure to love by picking one from this list.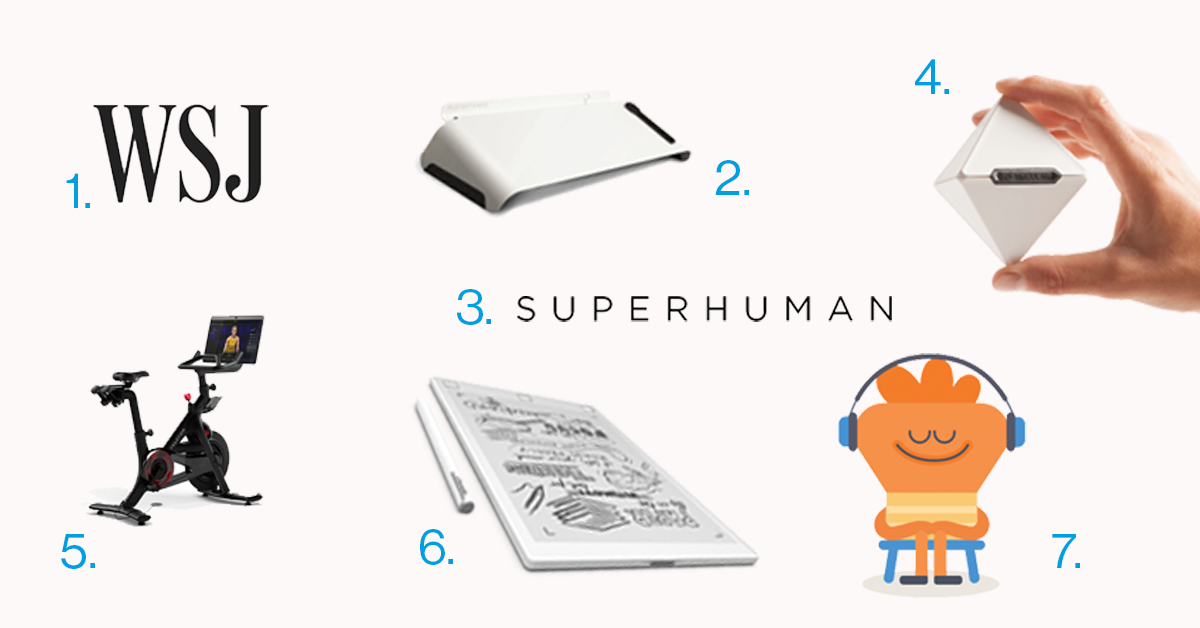 1. Wall Street Journal subscription
Most CEOs read a book a week. In addition to reading the latest New York Times bestseller, your CEO is also likely reading major news publications. The Wall Street Journal is one of the most authoritative sources on business and the financial markets, so a subscription is sure to keep your CEO informed on the most up-to-date news and information.
2. Fluidstance White Board
Is your CEO's desk bombarded with sticky notes? The Fluidstance white board is a great way to simplify an avid note-taker's desk. Its sleek design fits right between a monitor and keyboard, and it has a channel to hold things like dry-erase markers, pens, and charging cables. It's useful for taking day-to-day notes, it eliminates the need for sticky note and notepads, and just plain looks cool.
3. Superhuman
A great gift for CEOs who are always looking for new productivity tools, Superhuman is an email service provider with a sleek design and a plethora of advanced features. It's fast and functional with features such as A.I., triage, undo send, social insights, follow-up reminders, scheduled messages, and read statuses. With Superhuman email, your CEO can truly unlock their super powers.
4. Timeular Tracking Gadget
This nifty productivity tool tracks time with a flip of the device. Timeular is a fully-customizable, 8-sided dice that automatically tracks and syncs time. If your CEO is looking for a more accurate way to track and organize time, Timeular is a perfect gift. It is not only useful to bill clients and create timesheets, but it also helps see exactly where time is spent – a valuable insight for a busy CEO.
5. Online workouts
Someone on your leadership team is surely eyeing a Peloton. If a Peloton is outside of your shopping budget, there are plenty of online workouts that will challenge and inspire any fitness fanatic. Here are a few of our favorites:
6. Digital notepad
Whether your CEO is going green or simply looking for ways to declutter their workspace, a digital notepad will not disappoint! We love the reMarkable digital notebook because it literally feels like paper. It converts handwritten notes into emails, reports, or presentations, saving time transcribing.
7. Headspace
40 percent of adult Americans claim to meditate at least once a week. Practicing guided meditation has been known to reduce insomnia, increase attention spans, and even relieve back pain! Show your CEO what all the buzz is about (or help deepen their existing practice) with The Headspace app. It features hundreds of guided meditations on everything from stress to sleep, and even includes super-short meditations that will fit into the busiest of schedules.
Regardless of what you choose to send your CEO this holiday season, your gift is a statement of appreciation for all the hard work they've done this year. We will be sharing more gift guides for sales, marketing, and executives, so be sure to sign up for our email list to stay tuned!