Diversity is important to a successful organization. Over the last year, Sapper has made strides to break out of their mold and truly foster a diverse and inclusive company culture. While becoming an inclusive workplace will always be a work in progress, we've made it a priority to ensure that BIPOC employees are given a platform to thrive and create strong relationships within the company.
My name is Ambar Arango and I'm a Prospect Data Manager at Sapper Consulting. I am a first generation Mexican-American and my family traditions are very close to my heart. As a member of multiple Employee Resource Groups (ERG), our mission has been to make Sapper's culture even better than before.
Making connections as a remote company can be difficult, so as the holidays are approaching, I thought I'd share a little about my family's Latinx traditions to connect and possibly learn a thing or two…
Celebrating Latinx Culture
Unless you've been living under a rock, it should come as no surprise that my holiday celebrations will be a little different this year. Our family gathering will be at a distance and the Posadas will be via Zoom – but no matter what, celebrating Latinx culture will always have the three F's; Family, Food and Fiestas.
Family
One of my favorite things about my culture is that anything can be a celebration and ALL are welcomed with open arms. My family isn't just my relatives; it's my friends, my neighbors, and anyone who has impacted me in a positive way. Being a part of the latinx community means being there for your family on the good days and the bad…This year has been stressful to say the least, but the holidays are a moment to slow down, snuggle up, and make memories.
(This year it might just be a little less hugging my tios and a little more explaining how to log into Zoom.)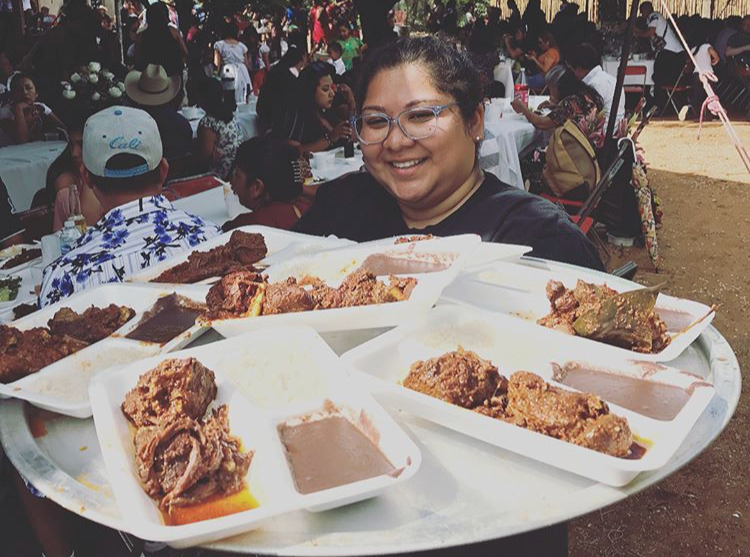 Food
When someone invites me to a party my first thought is always, "A qué hora van a servir la comida?" What time will they be serving food?
That's everyone's first question, right? A lot of families in the states like to host a cookie decorating party. Not my family…we host a tamale making party. We start an assembly line, blast our "Viejitas pero Bonitas" playlist, and cook all night. I've always felt that sharing a meal you've spent all day putting love into feels like a warm hug.
Fiestas
The parties aren't canceled this year, they're just smaller…and that doesn't mean they'll be less fun! Our typical New Years bash with tons of food and drinks has been replaced by a smaller (and much safer) New Years bash with…well, it'll probably have the same amount of food and drinks!
Everyone has their own traditions on New Years. Some sing Auld Lang Syne, other's go for the kiss when the clock hits midnight. Not me, no thank you. Pass me 12 grapes and let's get to manifesting the next year! Eat a grape, make a wish. Eat a grape, make a wish. Health, money, family, new car, promotion, you wish it, you manifest it!
Finally… (Ok I guess it's four F's). I'm thankful to live in an era with technology. Even though we are hundreds of miles away, our family is still able to connect. So…as the holidays creep up, we must adapt and start new traditions. This year our Noche Buena (Christmas Eve) will be via Zoom (yes, I'll be muting everyone), the tamale assembly line will just be my mother and I, and the grape eating will be done in our respective homes. But the most important thing is that we are together. Just because we are adjusting to a new normal does not mean we can't hold on to our traditions.